How to start a business and start-up
Helping entrepreneurs establish operations that develop into successful business ventures.
You have a concept or an idea. You've tested it out and have a prospective market for your product or service. You're working to solve a problem by providing a solution, which while it may not be guaranteed to succeed, has clear potential for growth. So it's official, you have a potential enterprise and the question then is, how to start a business and run it successfully?
Unfortunately, early stage businesses are anything but easy to navigate, especially when it comes to managing the finances and dealing with the mix of emotions at play. You'll probably experience vast highs along with considerable lows and there will be a substantial amount of time, effort and investment just to achieve profitability. So much of your organisation's destiny will be reliant on you in the early days and that can bring a lot of stress.
It's important to remember that business is about the long term and that requires the constant combination of ambition and perseverance to see you through. Thankfully there is plenty of help and resource available to relieve some of the burden off your shoulders and support you at every step of the journey.
How to start-up
1. The problems entrepreneurs face when starting a business
2. What are the business life cycle stages?
3. Understand the different types of business structures
4. Bookkeeping services - the sales ledger and the purchase ledger
5. Cash flow and the working capital formula
6. When you'll need start-up funding
7. The purpose of a business plan, to help secure finance
8. When and why you need an accountant for your start-up
1. The problems entrepreneurs face when starting a business
Working on a start-up can produce a real mix of feelings and identifying these is key to helping you emotionally manage the task of how to build a profitable business when starting from scratch. It's something we love supporting because of the huge feeling of excitement and visions of endless possibilities.
Unfortunately running a start-up can also cause stress with so much to consider and entrepreneurs may feel they lack the necessary focus and knowledge in key areas to make commercially sound decisions. That's why in the early days it's important to recognise the skills you bring to the business. From there you should then consider carefully what exactly your role will be in the operation.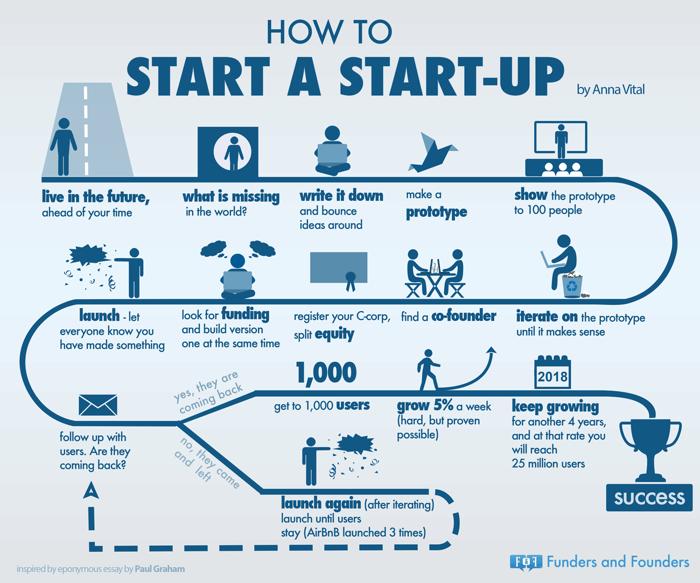 It's impossible to do everything and many entrepreneurs often spend the early days focused on product/service development as well as sales and marketing to generate income and growth. The point being you should always seek help in the areas you're less experienced in when the time demands it. That means building a network of support and considering the help of a mentor.
2. What are the business life cycle stages?
In over 75 years of advising organisations we've seen most of the challenges entrepreneurs face when starting out. Many start-ups from day 1 will require a full range of accounting, tax and advisory services to help them develop a scalable business model and progress into a successful growth story.
A useful place to start is by considering where you are in the business life cycle diagram below known as the Stages Model (a concept originally developed by Shirlaws).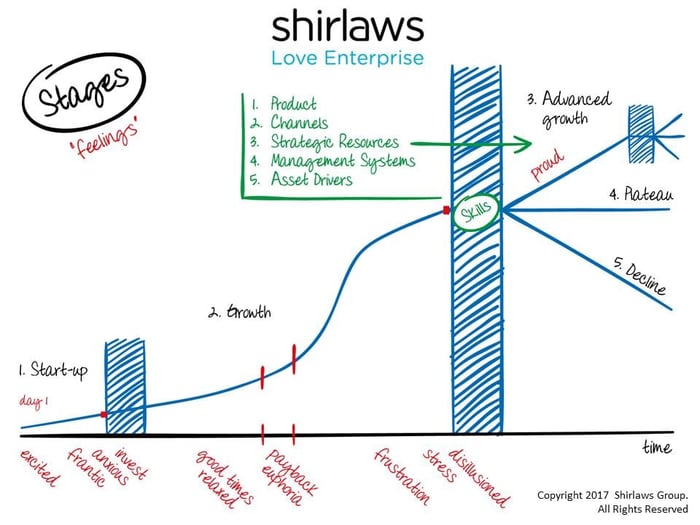 All organisations go through these stages of the business life cycle and entrepreneurs experience these emotions. By understanding which stage you're at, you'll then be better equipped to deal with the emotional demands of running your own business.
For entrepreneurs, the "start-up" phase is where your focus is likely to be. This is a frantic period of launching a new product or service and feelings can vary considerably. There will be considerable excitement as to future prospects, mixed with anxiety as to the time, money and effort required to build the business. Quite soon after launching, you'll hit a "brick wall" and your start-up will need an injection of finance to progress further forward.
3. Understand the different types of business structures
One of the first key tasks you'll need to tackle is which business structure to trade from. Your decision will ultimately come down to which is most appropriate to your needs and aspirations. To do this in a well informed manner, you'll need to understand what are the different types of business structures along with their various pros and cons.
Should you set up as a limited company or partnership? This can be complicated with implications in terms of exposure to taxation, reporting requirements and the degree of personal liability. It would be wise to seek professional help early on because you need to understand and be comfortable with how much personal responsibility you may be undertaking for any losses or debts the business is exposed to.
Starting out with the wrong structure can create all sorts of complications further down the business journey that may cost you considerably more money to fix than seeking advice in the first place.
4. Bookkeeping services – the sales ledger and the purchase ledger
Having picked a suitable structure, you'll now be in a position to start trading. Your business will soon start making sales and from the moment it does, you'll need a system in place to log these transactions. This means you'll need to set up the sales ledger and the purchase ledger to record money received along with what is still owed, as well as what you have paid for and what you remain liable for.
It might sound mundane but this is an absolutely vital part of the financial management of your start-up. A system needs to be put together and implemented through bookkeeping to allow you to understand and monitor the performance of your business via your management accounts. Furthermore without the process of bookkeeping it would be impossible to construct your annual accounts let alone accurately calculate your tax liability.
Ignore this vital task at your peril because without it you won't understand how well you're doing, you'll struggle to access any finance and you'll also likely face a hefty bill plus fines from the taxman.
5. Cash flow and the working capital formula
You'll probably see sales coming in as a sign of success. You may even become profitable quite quickly however, cash flow is the acid test as to the financial health of your start-up business. This means it's vital to understand your working capital, the money you have coming in versus the cash you have going out. Not only do you need to know your cash position today, but you also want to be able to project what your cash flow will look like in 6 months time.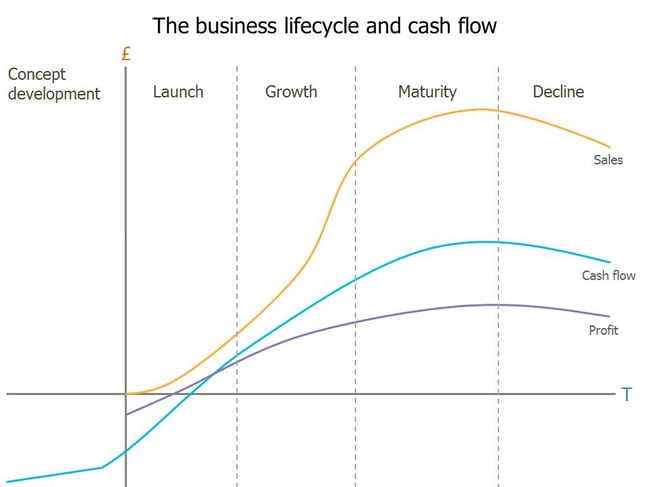 This forecast will help you to better plan for important purchases and investment decisions. To understand how financially secure your start-up operation is, use the working capital formula which allows you to understand how many times the business can pay off its creditors in the next 12 months using cash and any other assets that can be converted into money within a year.
6. When you'll need start-up funding
An essential balancing act that entrepreneurs have to perform is how to conduct the everyday tasks of operating your start-up while maintaining a positive cash flow. It's the key to early stage survival. When you start out you will have to invest a lot of money to launch your idea, bring it to market and establish your operations.
Few entrepreneurs have the necessary funds to hand to do that, meaning from quite early on you'll need to start planning as to how you're going to raise the finance needed to launch your start-up. Alternatively, it may be that you launched successfully on a tight budget and now need funding to progress the business by purchasing stock, new equipment, a new premises or hiring staff.
To obtain start-up funding, first you must map out exactly what you need the finance for. As part of this you should detail how this money will help the business develop and grow. You'll need to produce forecasts for sales, cash flow and profits as part of this. This will provide a potential source of finance with an understanding of how the funds will be used and what they will ultimately do for the business.
If you take on small business investors then you'll need to develop a plan as to how you will communicate with them. You'll need to determine their expectations and manage the relationship so as to ensure you remain in control of key decision making.
7. The purpose of a business plan, to help secure finance
What is the purpose of a business plan? There are many compelling answers to that question, one of which is your cash flow and profit projections will need to be detailed in this document for any potential provider of finance to scrutinise. The business plan will form the basis upon which they understand what the money is being used for, what it will do to help develop the business and how you will service any debt you may take on.
How to write a business plan? It is admittedly no easy task but you should seek the help of your accountant or advisor to do this. They will apply their experience of helping other entrepreneurs to test your assumptions, think through your ideas and chart the numbers around your business model.
You should refer to this document regularly and reference your projections. Good forecasting and planning are key to understanding future income and expenditure. By doing this you will help ensure your start-up doesn't suffer a shortage of cash over things like the payment of suppliers or employees. Such issues can prove fatal and force a business to close.
8. When and why you need an accountant for your start-up?
A common question we hear in the early stages from entrepreneurs is, "why do I need an accountant?" As the previous sections on this page have demonstrated, managing the finances of your start-up is anything but an easy task. Unless it's a skill of yours and something you really want to do, it could take up valuable amounts of your time and distract from other vital business areas.
Developing your concept, building your network, servicing customers, building your brand and making sales will likely be higher up your priority list. You're unlikely to sufficient time for understanding the intricacies of things like allowable business expenses and processing them.
Unfortunately ignoring the finances by not putting a system in place to record transactions is not an option. You need statements for income, cash and profits once the sales start coming in and the business generates money. This is a vital means to gaining access to finance and calculating your tax liability. Fail to do the later and you'll probably be facing a hefty tax bill.

This means the likelihood is you're going to need to work with an accountancy firm from the very start. A good advisor will keep you compliant with all filing, legal, tax and regulatory requirements. This will save you significant time by providing you with insight, from their experience of guiding other start-ups, as well as analysis, regarding how well you're doing and what can be achieved through your financial position.
Be sure to find an advisor that shares the same passion for your business as you do and has a great track record of client service delivery. Ultimately your accountant is an investment and akin to an essential member of your team.
Please note that the names and characters used in the examples mentioned above are hypothetical. Please also be aware that information provided on this page is subject to regular legal and regulatory change. We recommend that you do not take any information held within our website or guides (eBooks) as a definitive guide to the law on the relevant matter being discussed. We suggest your course of action should be to seek legal or professional advice where necessary rather than relying on the content supplied by the author(s) of this website.