Start-up business
Helping entrepreneurs establish start-up operations that develop into successful business ventures.
Working on a start-up business can produce a real mix of emotions. It's something we love supporting because of the huge feeling of excitement and endless possibilities. Start-ups can cause much anxiety with so much to consider and entrepreneurs may feel they lack the necessary knowledge in specific areas to make commercially sound decisions.
We've advised many start-ups from Day 1, helping develop these businesses into successful growth stories. We start by looking at where you are in the business lifecycle diagram below known as the Stages Model (a concept originally developed by Shirlaws).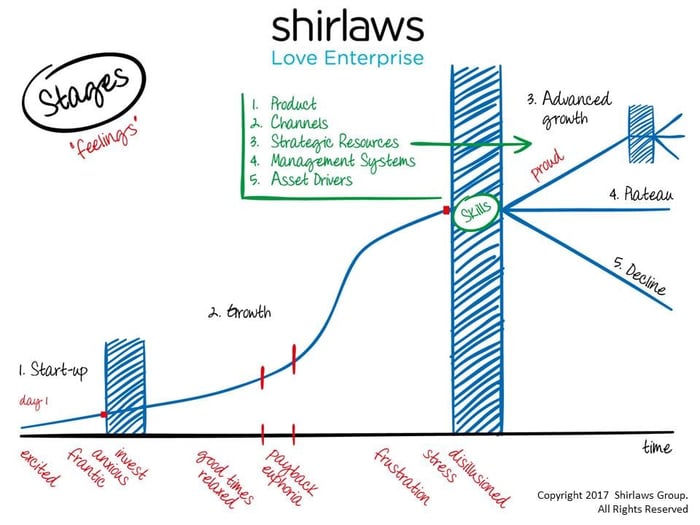 All businesses go through these stages and their entrepreneurs experience these emotions. By developing a full understanding of your organisation and which stage you're at, we're then able to tailor advice and solutions to help you deal with the emotional demands of running your own business.
Some of the ways we can help you as your trusted advisor include:
Reducing the burden and freeing up your time
By taking time consuming, difficult compliance and reporting tasks off your hands, freeing you up from the finance function so that you can focus on exciting projects that maximise the opportunities for growth.
Providing insightful financial analysis
We can implement reporting systems that give you clarity as to what the numbers mean and insight as to performance - where you're at today, and, what needs to be done to help your start-up achieve the goals of tomorrow.
Acting as a strategic sounding board
Our commercial ability has been grounded over many years helping clients with specific business matters. It means we are well placed to act as a sounding board, mentor and coach to owners, bringing experience and discipline to thinking strategically about your business.
We can help you ask the right questions, think through the options to understand the commercial viability of your plans and test, develop and achieve your ideas both quickly and profitably.